The Necessity for a Circlular Economy in a World that has Pushed the Limits of Linear Consumption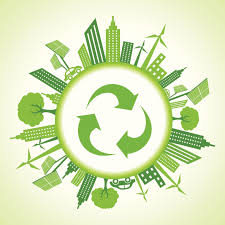 We are living in a world with increasingly finite resources.
The old proverb, "one man's trash is another man's treasure" has resurfaced as economists, business leaders, and policymakers are rethinking the global economy. Mindsets are shifting away from a focus on linear consumption and towards circular logic. As such, the commitment towards creating a circular economy on behalf of organizations large and small has skyrocketed over the better part of the last decade.Why? An increased awareness of the catastrophic effects of climate change and the ability and responsibility of business to mitigate said effects, the growing commodity risks omnipresent in supply chains, an increase in waste and recycling regulations, and an understanding and desire for the financial opportunities that can arise from materials efficiency.WHAT, EXACTLY, IS THE CIRCULAR ECONOMY?"Circular economy" has become a buzz word in recent years, with many throwing around the term and few attempting to truly define it.
"The concept of the circular economy is rapidly capturing attention as a way of decoupling growth from resource constraints. The circular economy refers to an industrial economy that is restorative by intention; aims to rely on renewable energy; minimizes, tracks, and hopefully eliminates the use of toxic chemicals; and eradicates waste through careful design." - Ellen MacArthur, Founder, Ellen MacArthur Foundation
The notion of value maximization of raw materials is not novel. In fact, the economic concept of circular logic dates back to 1972, when the book Limits to Growth was published. Limits to Growth sought to describe exponential economic and population growth with finite resource supplies, using a system dynamics computer simulation that served to portray the consequences of interactions between human systems and the Earth.
CHALLENGES AND HOW TO CREATE:The ultimate end state of a circular economy is closed materials loops, complete interconnectedness, and a world in which all materials are used and reused until the value of that material has been maximized. The chief impediment to the widespread adoption of a circular economy lies in supply chains, the complexity of products, and the lack of connectedness and communication between organizations.Materials are the heart of any economy, linear or circular.The World Economic Forum, in collaboration with McKinsey & Company and the Ellen MacArthur Foundation, published a report (2014) titled, Towards The Circular Economy: Accelerating the Scale-Up Across Global Supply Chains, in which it identified four materials categories as "prime candidates for demonstrating viability":
Golden Oldies: high volume recyclable materials such as paper, cardboard , PET, glass, and steel that are widely collected, but suffer from contamination and quality loss in the cycle.
High Potentials: high volume materials such as polymers that are used broadly but not often reused.
Rough Diamonds: high volume by-products of manufacturing processes, such as food waste and carbon dioxide.
Future Blockbusters: materials that have "breakthrough potential" through novel technologies like 3D printing, or have usage cycles that are fully restorative, such as bio-based materials.
McKinsey's Sustainability and Resource Productivity Division has identified six approaches that business can adopt to help contribute to a circular economy: regenerate, share, optimize, loop, virtualize, and exchange.
FORD MEETS JOSE CUERVO, BOEING PARTNERS WTIH RUSSELL ATHLETIC, & SPEEDO IS MAKING SWIMWEAR OUT OF FACTORY SCRAPS.Among many examples of companies that are embracing and contributing to a circular economy, below are three interesting innovations.FORD + JOSE CUERVO:Ford has been in the repurposing market for a few years now, partnering with H.J. Heinz to implement tomato-based car parts and more recently with Jose Cuervo to develop sustainable bioplastics from the tequila manufacturer's plant byproduct, blue agave.We've been looking at farm-to-car just like people in society are looking at farm-to-table, local foods. We were thinking, 'We have an assembly plant in Mexico. What is heavily grown there?' - Debbie Mielewski, Senior Technical Leader of Materials Sustainability, Ford Motor CompanyJose Cuervo is proud to be working with Ford to further develop our agave sustainability plan. As the world's No.1 selling tequila, we could never have imagined the hundreds of agave plants we were cultivating as a small family business would eventually multiply to millions. The collaboration beings two great companies together to develop innovative, earth-conscious materials. - Sonia Espinola, Director of Heritage for Cuervo FoundationBOEING + RUSSELL ATHLETICIn 2014, Boeing, the largest aerospace company in the world, and athletic apparel manufacturer, Russell Athletic, formed a partnership originated on the premise that the excess aerospace-grade carbon fiber from the production of Boeing's 787 Dreamliner would be a perfect input material for Russell Athletic's protective football gear. As a result, the CarbonTek Shoulder Pad was created: a revolutionary football shoulder pad boasting an 100% carbon fiber exoskeleton.SPEEDO + SPEEDO:SPEEDO has been embracing the circular economy by creating swimsuits from remnants of nylon generated in its own factories, executed through the company's partnership with Aquafil, a company that has pioneered a new form of nylon created from 100% waste material.There are very informed consumers out there who are highly motivated and have really though through their choices about what brands they choose. They base those choices on the kinds of actions those brands take. Closed loop systems are really on the agenda right now. - Kristine Lebow, Speedo USA's Senior Director of Merchandising and Design.BIG PLAYERS:A collaboration between the World Economic Forum and the Ellen MacArthur Foundation has brought leading organizations together in attempts to speed the pace of transition to a circular economy. Strategic Partners of the World Economic Forum include Cisco, Coca-Cola, Nestle, Philips, Renault-Nissan BV, and SAB Miller. Members of the Ellen MacArthur Foundation's Circular Economy 100 include IKEA, Royal DSM, Cisco, Coca-Cola, SAB Miller, Desso Holding BV...the list endures.The U.S. Business Council for Sustainable Development is facilitating repurpose opportunities through business-to-business (B2B) collaboration with initiatives like the Materials Marketplace, a national cloud-based platform that helps match company's waste streams with new product opportunities.THE NEXT FRONTIER:Despite a growth in repurposing materials, circular logic is still a tiny pigment of the broader economy. While our industrial economy has evolved and grown, macro and microeconomics has still held on tightly to a linear model of resource consumption: companies create or procure materials, use materials to manufacture a product, sell said product to customers, and customers ultimately discard the products they have bought when such products no longer serve them a purpose.
"I view closed loop and circular economy as synonymous. We want to make sure any consumer good can be recycled back into another product continually. Part of business is constantly focused on efficiency - how do we make the same product better, in a less expensive way? That's very much in line with the circular economy. If I can get material I can use from somebody who is just going to discard it, that's probably much cheaper." - Ron Gonen, Director of Closed Loop Fund, a $100 million recycling initiative funded by Goldman Sachs, Coca-Cola, PepsiCo, and Walmart, among others.
The future of a truly circular economy, one in which national systems thrive and grow, and materials' value is fully maximized, is reliant on change-makers' ability to envision multiple uses for the same material. The future is reliant on corporate leaders and policymakers' ability to match existing waste streams with novel applications. The future is reliant on the desire and willingness of companies to collaborate with one another - to recognize efficiency's in each others' supply chains and take action in embracing maximum efficiency and zero-waste.Progress has been made. But it's not enough.